Electronic Arts have finally launched Apex Legends Mobile as a service battle royale shooter video game for the Android and iOS; platforms. The action operates on the mobile platforms and is now in beta testing despite being released recently. Some fans might draw on this game for quite a few years. Some Apex Legends Mobile players continue to be obtaining Apex Legends Mobile Not Available In Your Country errors when signing in.
View our advice if you're also one of those unfortunate victims to experience such a problem. It is obvious that not only if you are using Android or an iPhone, but this device can also malfunction as well if your country is not on the list. You can ask the question about how to download Apex Legends Mobile for your cellular phone and play without the Not Available In Your Country error.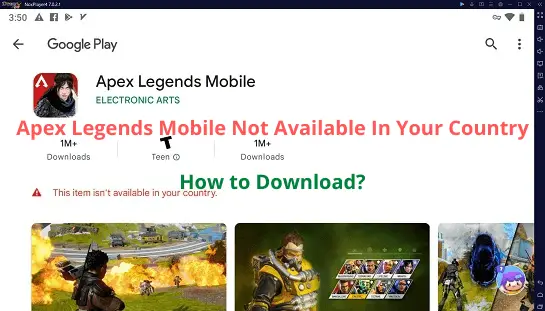 Apex Legends Mobile Not Available In Your Country, How to Download?
You should have turned 18 years of age or above, and you need to have compatible computer hardware to participate in Apex Legends Mobile. When you first start the video game, it lets you choose a country from a list of countries located by Electronic Arts where players can be able to run the game such as Argentina, Australia, Colombia, Indonesia, Malaysia, Mexico, New Zealand, Peru, Philippines, and Singapore.
Fortunately, we have a temporary fix for you until Apex Legends Mobile becomes available worldwide. You'll have to follow the instructions we provide one by one to fix the problem. We've laid out the simplest and most straightforward techniques to perform it. Therefore, let's get started.
See more:
1. Try Creating a New Email ID (Android)
You'll first need to create a new email so that you can easily download and play the game properly. Go to the Gmail app or visit the browser then open a Google account. Open a new Google account and remember the credentials.
2. Use a VPN Service
Make sure your Apple or Android operating system downloads the VPN app from the app store. You'll want to use a top-ranked VPN that provides unrestricted access to overseas locations. Launch the app and connect to any of the given servers from Australia, New Zealand, Singapore, Malaysia, Philippines, Indonesia, Mexico, Peru, Argentina, and Columbia. Be sure to switch to VPN.
3. Clear Google Play Store Cache and Data (Android)
Now, Android users can navigate to Settings → Apps & Notifications → Show System Apps (Show App List) → Search for the Google Play Store app from the list → tap on it to open the App Info page → tap Clear Cache and then Clear Data to remove Play Store concerning saved data from your Android device.
4. Login with your New Email ID on the Play Store (Android)
Launch the Google Play Store program and then sign in using your brand-new Google account. Enter your valid credentials to sign in to it.
5. Install Apex Legends Mobile
On the Play Store application page, search for Apex Legends Mobile and install the app. Make sure that VPN is still attached to the added server to prevent errors. Having a stable and faster internet connection is important so the process progresses smoothly. Additionally, keep in mind that your device storage space has been large enough to complete the installation. Sometimes the game may also have to merge with additional resources while it's being downloaded.
What About iOS/iPhone Users?
iPhone users may specialize at the iTunes Store and install any one of the free VPN apps which have small indicates IP addresses. Now, open the VPN course, and pick a region like Australia, New Zealand, Singapore, Malaysia, Philippines, Indonesia, Mexico, Peru, Argentina, and Columbia. To make certain that your VPN is connected, open the Control Center panel on your Apple iPhone and follow the instructions.
It is time to open the Apex Legends Mobile game you just downloaded and try loading it completely. Either you can register using your Facebook account or Apple ID, or you can tap on More and sign up using an EA account or as a guest (whatever you want). Before you begin to play Apex Legends Mobile Not Available In Your Country error message will not appear on your device.
With that, we conclude Apex Legends Mobile Not Available In Your Country. Any further questions can be addressed in the comment section below.