The black-colored Cat S65 device will hunt your attention at first sight for a unique and premium design. Its advanced processor and GPU with other enchanting specifications make it hard to dislike. Android 12 will be featured here, so using this device will be extra fun.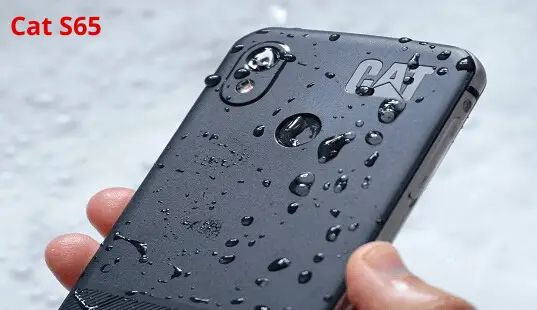 The first thing you'll love is its display and camera. Its camera can take various shots along with maintaining quality resolution. The display protection system with Gorilla glass and its screen-to-body ratio is satisfying.
Other features like network facilities, Bluetooth version, etc., are worth the device. It uses an SD processor that runs on a 4500 mAh battery daily. It's time to know a few more things like the release date, pricing, and other details.
Cat S65 Specifications
Cat S65 has some attractive features to enhance your smartphone experience. With its fantastic design and functions, you'll also experience its excellent performance.
Design
Cat S65 comes with a convenient design for both moderate and heavy users. Its upper portion contains an earpiece and a sensor dot. The lower portion has a mouthpiece to speak. This device features a dual camera, fingerprint sensor, and flashlight in the rear part.
Its edges are flattened, giving you a feel of mitis while putting it in the pocket. However, Does the cat s65 have a headphone jack? Yes, it comes with a 3.5 mm jack with a durable build. The volume button is situated at the right part of the device.
Body
With only 158.5 x 76.7 x 11.9 mm dimensions, it's super easy to carry. It weighs only 248 g which makes it highly transportable. It has Gorilla Glass 6 protection and plastic back, so it's hard to crack. It has IP68/IP69 dust/water resistance up to 1.5m for 35 mins. Also, it's Drop-to-concrete resistance from up to 1.8m.
Display
This device has an IPS LCD with 16M colors. The display Size is 5.7 inches, easy for holding and watching movies or type texts. Its 69.9% screen-to-body ratio is another big plus for precisely watching content on the screen. The display resolution is 1080 x 2160 pixels with 424 PPI density. It'll barely allow scratches and works nicely even with a few drops of water.
Battery
Cat S65 will come with a battery of 4500mAh. Though it may not seem big enough, it's mind-blowing with good optimization and OS. You can get the battery backup for up to 6-7 hours. Wireless charging is also featured here. External wireless charging pins connector with Quick Charge 4 feature is added.  If you want more battery capacity then Cat S66 will be the best option for you. It comes with a non-removable battery of 6500 mAh
Camera
There is a dual camera setup in this device. The main camera is a dual-pixel PDAF FLIR thermal camera with 12 MegaPixels. It'll come with a wide-angle feature. An LED flash is attached below the camera segment to improve the night picture quality. It features HDR and panorama to make the camera more fun.
An 8 MP selfie camera is placed at the peak of the display. It can take 1080P videos at 30 fps.
Platform
Cat S65 will run on Android 12 like Cat S54. Android 12 is the latest update for Android smartphones. All apps with their newest version will run on this device easily. Besides, Android 12 will offer a more user-friendly interface with strong security.
Sounds
This device's sound is loud enough. It features a loudspeaker with a sound filter system. Also, it comes with a 3.5 mm audio jack which can be used in listening to music.
Front back
The back part is made of plastic material. It's hard to break even if the device slips away. The front part is made of pure glass with Gorilla Glass 6 protection. Aluminum side protection is also added for extra safety.
Processor
Qualcomm SDM660 Snapdragon 660 (14 nm) chipset operates its whole operations. Its Octa-core CPU and Adreno 516 GPU can cope with most regular smartphone tasks.
Storage capacity
Cat S65 offers 128 GB internal storage capacity with 6GB RAM (Random Access Memory). It has a microSDXC dedicated slot to extend storage capacity up to 1TB using an external memory card.
Network
You can use this device under 2G, 3G, and 4G network coverage. It has all the necessary network bands- GSM,  CDMA,  HSPA,  EVDO,  and LTE.
Key features
Its main features include a rear-mounted fast fingerprint sensor, accelerometer, gyro, proximity, and compass. The HTML 5 browsing facility will offer SMS, MMS, Bluetooth 5.1, and Email service. The next model will be Cat S65 Pro.
Cat S65 Release date
November 2023 is the approximate Cat S65 release date.
Cat S65 Price
Cat S65's price isn't fixed yet. But, it's worth $500 or more.
Who and why should I buy it?
Android users can rely on this device because of its enchanting features. It's especially worth buying for moderate users. You can use it for necessary browsing, entertainment, including gaming, and listening to music. Also, Cat S65 is good for regular photography.
So, for those who're looking for an "all-in-one" device with everything average, it's their device. You can't pick this device for high-end gaming or dedicated videography. Its backup, design, durability, network, and features are superb. And that's enough to make Cat S65 your new companion.
Cat S65 FAQs
Which country and company manufactured it?
Bullitt Mobile Ltd in the U.S.A manufactures cat smartphones. They not only manufacture but also design and distribute this device all over the world. This company is under the exclusive license from Caterpillar Inc. Due to high manufacturing costs in the U.S.A, they're slightly expensive.
When will Cat S65 be released?
Cat S65 is expected to be released in November 2023. It's not an official announcement yet. According to the trusted sources and the old model's history, the release date will be around the approximate date. Cat S series devices are going to break the records of their previous models. Check out the Cat S70 Release Date.
Which is the chipset?
Cat S65 uses a Snapdragon processor. It comes with the Qualcomm SDM660 Snapdragon 660 processor. This processor is a 14nm processor which is capable of running this device precisely. Heavy users may face several issues like a decrease in performance while gaming with this processor.
Which type of display panel is used in it?
Cat S65 uses an LCD display panel. It provides better quality to watch content like videos with proper coloring. The display has 16M colors to represent videos with extra quality. Also, this display is protected with Gorilla glass protection. It's difficult to put scratches on display.
Is the Cat S65 indestructible?
Cat S65 comes with a sturdy build with a plastic back part. The rear side is protective against sudden falls or unwanted forces. This device's side portion is framed with aluminum to prevent breakage as well as bending. Despite that, this device can get damaged by excessive water, heat, and falling from a large height.
Does the Cat S65 have a push to talk?
Yes, Cat S65 will contain Push To Talk (PTT) features in built-in condition. This feature includes an instantaneous communication system that switches from voice transmission to voice reception mode using a button. The Zello PTT Walkie-Talkie can be found in the App toolbox segment of this device.
Is cat S65 5G capable?
No, there is no 5G band in the Cat S65 model. It only supports 2G, 3G, and 4G services. Providing 5G service requires using a special processor for network bandwidth. Cat S series will bring 5G features sooner with another model.
Conclusion
Among various smartphone models, it's hard to find the right one. Cat S65 is slightly expensive, so it's not the choice of everyone. But, if you trust in brand value with advanced features, you can rely on this phone. You'll face downtime and a performance drop barely.
Cat S65 smartphone never disturbs you with its network issue. It'll never hang while you're browsing or gaming. From the touch response to the scroll experience- everything is amazing. The only regret you may have about this smartphone is not having purchased it earlier.
Most importantly, Cat S65 is protective against sudden falls or water drops. The button placement, operating system, and overall design- everything is user-friendly. All you have to do is regularly charge it and perform updates from time to time. Hopefully, it'll break all the records of the previous Cat S series devices.