For a very long time we have been witnessing two operating systems consistently competing with one another; iOS and Android. Whenever choosing a mobile phone or a tablet, it all boils down to these OS. Before choosing between Android and iOS, you must be aware of their differences. Both have their advantages and disadvantages. It is essential to know what your requirements are and what features you need to make a choice.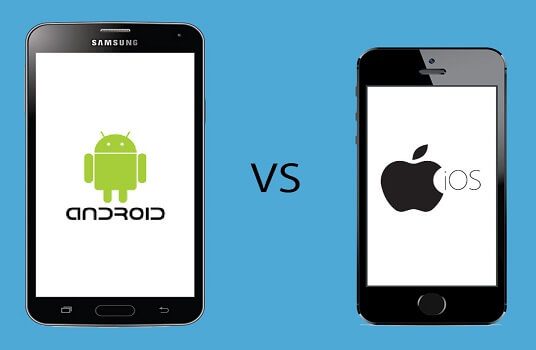 This article will highlight some of the significant differences between the two. Now before you start with the differences, we would advise you to have a stable internet connection for either of these devices to have a smooth experience, after all, what would be the point of owning a smartphone if, in the end, you cannot make the most out of the downloaded applications. If you are looking to switch, contact CenturyLink phone number and get information regarding their packages. They are known for their excellent internet speeds and customer service.
Now let's get into Android vs iOS phones.
Apple's iOS
The primary difference between Android phones and iOS devices is in the operating systems. Apple Incorporation provides iOS, a mobile operating platform. It was designed to use with Apple mobile devices such as the iPhone and iPod Touch. It was previously known as iPhone OS. It is Unix-like and based on Darwin (BSD), an operating system. It is second in the world after Android. It is written primarily in C++, Objective C, Objective-C, and Swift.
Google's Android
Android runs on Linux, which means you can customize it to fit your tastes. Google LLC provides Android, a mobile operating system. It uses the modified Linux Kernel, as well as other open-source software. The Android was specifically developed for touchscreen mobile devices such as smartphones and tablets. It uses Java, C++, and other languages. Google launched the first Android version in 2008. Android 10 is the latest steady version.
Interface
Android device interfaces vary greatly from one manufacturer. You will most likely find an operating system skin you like, but switching between Android smartphones from different manufacturers can be difficult. All iPhones with the same iOS version have the same interface. Although it is easy to switch from an iPhone 2016 to an iPhone 2022, customization options for iPhones are limited.
Features
Innovation has been the key to the Android ecosystem. Many manufacturers will risk introducing unproven features to stand out in the market. On the other hand, Apple has been slow to adopt new features. They only introduced them after they were assured that the feature would succeed. Let's look at high refresh rate screens. While the first Android phones with 120Hz displays were released in 2017, Apple implemented the feature on the iPhone 13 Pro Max and 13 Pro. Although iPhone users may feel deprived, this delay allows for better implementation of any feature. The first version of Samsung's foldable screen was poor in terms of life expectancy and durability. Only now can we say that we are comfortable with this technology. You don't need to worry about experimental features ruining your iPhone experience.
Connectivity
Android smartphones offer a variety of connectivity options. The connectivity options available for Android smartphones are well-known and easily compatible with current devices, including Bluetooth, Bluetooth wireless, and physical headphone jacks. Apple, however, is so eager to innovate that it has removed the headphone connector from iPhones starting with iPhone 7. It does have the most current connectivity options like Bluetooth and NFC.
Accessories
Most accessories and wearables can be used with Android devices. Samsung smartwatches can be used with Huawei smartphones and Sony headphones with Xiaomi phones. Some of the features may be slightly limited. You are not forced to use an ecosystem as you are with iPhones. You can use the AirPods on Android smartphones, but you will lose some features.
You can buy a USB-C cable for Android phones almost anywhere you look, and they will most likely be compatible with your phone. The iPhone's proprietary Lightning port accepts only a few third-party cables. Uncertified cables will result in a "This Cable or Accessory is Not Certified" error message.
Storage and Memory
While smartphones are moving away from this feature, many Android devices still have expandable storage. Fixed storage is available on iPhones. If you are a photo hoarder or enjoy recording videos, then you may have storage space problems.
Privacy
Google's targeted ads are based on the user's browsing, shopping, location, and viewing preferences. In most cases, both operating systems offer similar privacy levels. Apple collects less information from users overall. Moreover, third-party apps in the App Store follow stricter privacy guidelines.
App Stores
Google Play is an official app store for Android smartphones. It contains approximately 3.5 million apps, whereas Apple's app store contains 2.3 million available. While most apps in the Google Play store are completely free, many of them also contain ads. Whereas, when it comes to Apple's App Store, malware apps, due to Apple's strict filtering, rarely get bypassed. Therefore, you will feel safer and have a better user experience in the Store.
Conclusion
Apple's iOS phone and Google's Android phone are both popular smartphone operating systems. While both platforms offer many similarities, there are also many differences. Which platform is right for you will depend on your preferences and your personal needs