The latest Cat S49 5G smartphone is a great option for anyone looking for a device with both balanced features and a superior user experience. Its lightweight design, long battery life, and exceptional display and network connectivity set it apart in the Android market.
The SD processor and high-end GPU in this device are well worth the cost. Additionally, its fast fingerprint scanner provides top-notch security, and all of its sensors are both user-friendly and productive in everyday use.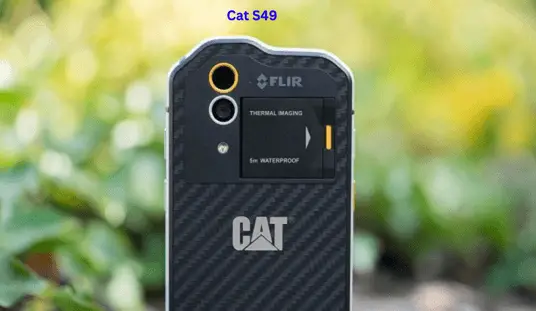 Recommended for you: Cat S63 Pro.
Performance
Snapdragon 888 5G
Launch Date
November 24, 2023
Cat S49 Specs
The Cat S49 smartphone offers advanced features at a great value. To see what others think, check out some reviews of the device.
Design
One of the standout features of this device is its sleek design. From the positioning of the camera to the display edges, every detail is well thought-out. The front of the device features an earpiece at the top and a mouthpiece at the bottom. The rear side includes a Triple-camera setup and a powerful flashlight.
The front camera on this device is perfect for taking great selfies. A frequently asked question is whether the Cat S49 has a headphone jack, and the answer is yes, it has a 3.5mm audio jack, so you can use earphones and listen to audio in any environment.
Body
The Cat S49 smartphone is a 248g device with an ideal center of gravity, making it easy to hold like Cat S70. It measures 158.5 x 76.7 x 11.9 mm, making it the perfect size for a smartphone. With its glossy black finish, it gives a great first impression, and the rear part is made of plastic which is less prone to damage in case of accidental drops.
Gorilla glass for the Cat S49 cell phone is glass 7 protection for its display, making it highly resistant to cracking. Additionally, the device is IP68 rated, protecting it from dust and water damage, with a resistance of up to 1.5m for 35 minutes. It's also been tested to be resistant to drops of up to 1.8m on concrete.
Display
The Cat S49 features a capacitive touchscreen display utilizing an IPS panel with a 16M color range, resulting in vivid and clear pictures. The device also has a 120Hz refresh rate for a faster and smoother touch response.
Although the display size is only 6.2 inches, the 1080 x 2160 Pixels resolution makes for an enjoyable viewing experience. Additionally, the display is built to be durable, resisting scratches even with heavy usage.
Battery
The Cat S49 boasts a powerful 6400 mAh non-removable battery, thanks to its optimized operating system. Expect around 24-30 hours of usage before needing a charge, although heavy activities such as gaming may decrease this time.
The device is equipped with fast charge four technology for efficient recharging.
Camera
The Cat S49 is equipped with a triple camera setup that includes a FLIR Thermal sensor and LED flash. Despite its 48 MP megapixel rating, the camera is optimized for high performance by its processor, allowing for stunning macro and wide-angle shots.
Additionally, the device features Thermal Imaging and Heat Palettes for an even more advanced camera experience. For selfies, the device has a single 16MP camera. The Cat S49 is also great for video shots, able to capture 1080P at 30 fps.
Storage capacity
The Cat S49 smartphone has an internal memory of 128/256 GB, which can be expanded with an external memory card up to 1TB.
The device has a dedicated micro SD slot, so you don't have to remove the SIM card to insert an SD card. It also has 6/8GB of RAM for storing cache memory, which is standard and not expandable.
Recommended for you: Cat S56: Your New 5G Companion for High-Speed Connectivity.
Cat S49 Release date
The release date for the Cat S49 smartphone has not yet been confirmed, but it is expected to be available in the market around November or December 2023. The manufacturer is taking additional time to ensure the device is a game-changer. Check out the Cat S45 Release Date.
Cat 49 Price
The Cat S49 smartphone is estimated to be priced at around 400 EUR in the European region. Despite the higher price point, the Cat S49 is considered to be a better value for its features.
For customers outside of Europe, the approximate price is $400 based on the device's overall features.
In conclusion
The Cat S49 smartphone is a great device that will serve you well in your daily use. As long as you keep the battery charged and perform regular maintenance, it will continue to function well for an extended period. Choosing the Cat S49 as your regular device will be a decision you won't regret.